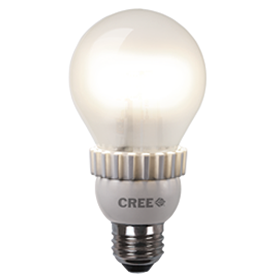 Cree has just released their A-type LED bulbs and the every other LED bulb manufacturer just sh*t the bed. 
How's that for an intro?
But seriously, I'm excited about this bulb.  I'll be buying one asap to test it out.  I like its look, its performance specs, but most of all, I like the price.  A 40-W replacement bulb for under $10 from the best name in the LED lighting business?  I like that.  
If you read our post on the best screw-in A19 LED bulb, you would have noticed that Feit Electric LED bulb and Philips AmbientLED bulbs in the 800 Lumen range are priced right around $16 on Amazon.  The Cree 800 L bulb is right around $13 on Home Depot (depending if you want the Cree 5000K color temperature LED bulb or the 2700K version)...and not only are these bulbs lower cost, AND use less energy, they also have a 10 year warranty, which is twice as long as the other bulbs!
The Cree bulb is currently only available at Home Depot. 
Below is a comparison table of the 60-W and 40-W replacement Cree LED bulbs with some of the closest competitors in the same color temperature range.  I think I made up the spec "lumens/watt/price" but I think it gives a nice comparison of how technical performance compares with price.  Higher is better and Cree blows all the others away in this category.  Cree also has the best warranty of all the competitors.
When you look at the specs and the price on the 60 W replacement bulbs (around 800 L), I'm wondering how the other guys are even going to compete?  At least the Maxxima LED comes close on the 40 W replacement bulb (around 450 L).  I didn't even include the pretty ridiculously price and fairly ugly looking GE A-type LED bulb or the Insignia (Best Buy brand) LED bulb that uses Cree LED diodes.
Data is current as of 3/17/13
| | | | | | | | | |
| --- | --- | --- | --- | --- | --- | --- | --- | --- |
| Name |   | Color temp | Warranty (Yrs) | Lumens | Watts | Lumens/Watt |  Price  | Lumens/Watt/Price |
|   |   |   |   |   |   |   |   |   |
| Philips AmbientLED | | 2690 | 6 | 805 | 12.5 | 64.4 |  $16.65 | 3.9 |
| Cree 9.5W | | 2700 | 10 | 800 | 9.5 | 84.2 |  $12.97 | 6.5 |
|   |   |   |   |   |   |   |   |   |
| Feit Electric | | 5000 | 2 | 800 | 13.5 | 59.3 |  $16.00 | 3.7 |
| Cree 9W | | 5000 | 10 | 800 | 9 | 88.9 |  $13.97 | 6.4 |
|   |   |   |   |   |   |   |   |   |
| Maxxima LED | | 2700 | 3 | 465 | 7 | 66.4 |  $9.99 | 6.6 |
| Cree 6W | | 2700 | 10 | 450 | 6 | 75.0 |  $9.97 | 7.5 |
Related Links:
enjoyed our post? let others know: